New Literary Books Under Contract: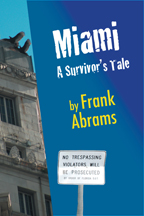 Miami-A Survivors Tale
Frank Abrams-Miami, Florida-First Novel
film trailer by Red 14 Films
Now Available at 25% off -until November 8th, 2013
"Flailing the air with the sharp-wit of coconut machete words, Frank Abrams cuts the head square off Miami, nestles it under his arm, and boldly walks through the Headless City, talking to himself. Everywhere people stare, eyes dumbed down, as plaintiff cries, barking dogs, gunshots and real estate developers drown together in a sunburned stew of history gone awry."—Peter B Gallagher , award winning writer and poet.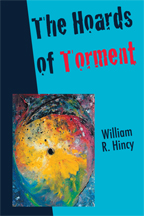 The Hoards of Torment
William R. Hincy-Glendora, CA--First Novel
Cover Painting by Jarrett Leone
"Deeply felt and deftly written, The Hoards of Torment by debut novelist William R. Hincy chronicles a young man's painful journey to self-awareness. At thirty-two, and a father of two, Jack is stuck in an adolescent, destructive rut — and old enough to know better. But a battle with his demons leaves him at the cusp of maturity and, just possibly, redemption. The story's hoarding theme, both literal and symbolic, provides a powerful and compelling motif throughout. William Hincy is an emerging writer of great promise. Keep an eye on him."
— Michael Craft, author of The MacGuffin and the Mark Manning mystery series.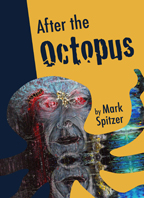 After the Octopus
Mark Spitzer, Associate Professor of Creative Writing, Univ. of Central Arkansas--16th work.
"After the Octopus continues the bizarre chronicle that is Mark Spitzer's
life. From the dirty streets of Seattle to the trippy hills of Boulder,Spitzer documents his affections and disgust in equal measures. Written with a sharpie on a pair of dirty blue jeans, After the Octopus is an ecstatic, funny, and nihilistic vision of Grunge life and depraved love." --Tyrone Jaeger, author of The Runaway Note
Cover Painting by Jarrett Leone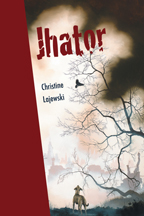 Jhator
Christine M. Lajewski, Norton, MA--First Novel
While attending the funerals for several family members lost in a fire, Sofia finds herself plagued with a bitter taste nothing can remove. A year later, she rescues a white snake trapped in her garden. The bitter taste disappears and Sofia discovers she has been given a gift: She can understand the speech of animals. This gift, however, comes with some heavy responsibilities. Three physical animal guides enter Sofia's life to help release her from her grief. Her dog, Jet, is exuberant and joyful while Afra, the doe, is an empathic, grieving mother. Anat, the vulture, is a harsh, sometimes terrifying teacher. Cover Painting by Brian Mashburn.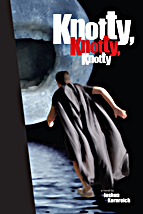 Knotty, Knotty, Knotty
Joshua Kornreich, NY, NY, --Second Novel--heavy feather review
Cover Painting by Jennifer Sidel
Red14 Film Trailer for Knotty, Knotty, Knotty
"Joshua Kornreich writes like an autistic street preacher who is biblically bent on getting his version of the truth told and then retold until his story becomes gospel. His recursive swirl of sentences and pathological way of saying will seduce even the deafest ears into a new kind of listening." -Peter Markus, author of We Make Mud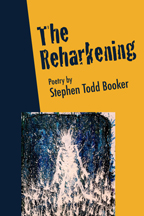 The Reharkening
Stephen Todd Booker--Fourth Book of Poetry
Cover Painting by Jarrett Leone
Stephen Todd Booker's poetry has appeared in magazines far-removed from his cell on Florida's death row----- For example, in Argentina, China, India, and Australia. His poetry has been included in the staged production of the play Of Cold Places, in 1988, anthologized (in The Light From Another Country, Greenfield Review Press, 1983), and his poetry has seen translation in Spanish, Portuguese, French, and Chinese. He is the author of the collections, Waves & License (Greenfield Review Press, 1983), Tug (Wesleyan University Press, 1994), and the chapbook collection, Swiftly, Deeper (Mandrake Poetry Press ~ Gliwice, Poland, 1995), that are included in this volume. Born in Brooklyn, New York, in 1953, at the time of this book's printing he has spent over half of his life in prison, and has been sentenced to die since 1978.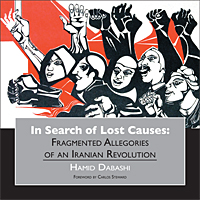 In Search of Lost Causes: Fragmented Allegories of an Iranian Revolution
Hamid Dabushi,PhD--Hagop Kevorkian Professor of Iranian Studies and Comparative Literature at Columbia University--26+ books in print.
Red 14 Films Interview Here
Cuchifritos-Puerto Rico and Mexico
Cynlos-First Book of Poetry—San Miguel de Allende, Mexico
Cut
Adam Cushman, First Novel
Without Leave
Deborah Fleming, First Novel, Winner of the 2013 Asheville Award
Ashland University
Be the next to publish your literary work at the Black Mountain Press.